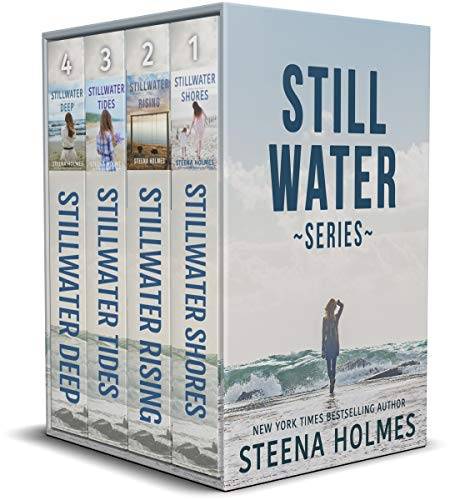 Her town is falling apart after being ripped apart by tragedy.
Once the media circles leaves, it's time to pick up the pieces, but after learning secrets never meant to be revealed, Mayor Charlotte Stone isn't sure it's possible anymore.
How much hurt can a community take? When is healing a possibility?

THIS SET INCLUDES: Books 1-4 (with 5 chapters of Stillwater Rising - as approved by publisher).

Read the STILLWATER BAY SERIES in this boxed set collection!

Fans of Jodi Picoult and Elin Hilderbrand will fall in love with this series set in the town of Stillwater Bay, a heart-touching series of the devastating aftermath of a small town school shooting by NY Times & USA TODAY Bestselling author Steena Holmes.

In this boxed set are the following stories:

STILLWATER SHORES: Before the first shots are fired within the walls of Stillwater Elementary School, life went on as normal for five women who were close friends. Their monthly girls' night was coming up and they couldn't wait to get together. They all needed this night to run away and be carefree - from their husbands, their children, their church - with no expectations, no responsibilities, where they weren't mothers or wives.

No one expected their lives to be torn apart, their friendships tested in one short minute when their town is rocked by a danger lurking in their tight-knit community.

This prequel novella gives you a glimpse into the town of Stillwater Bay and its residents. You will see what their lives were like BEFORE the storm that rocked their little community descended upon them.
*note this was previously titled BEFORE THE STORM*

STILLWATER RISING: Read the first 5 chapters (as provided by the publisher). After losing her son in an elementary school shooting that devastates the tight-knit community of Stillwater Bay, Jennifer Crowne finds herself unable to settle back into her role of perfect stay-at-home mom and committee organizer. Meanwhile, her best friend, Mayor Charlotte Stone, struggles to keep the town together, and Charlotte's husband, the school principal, may not be the hero everyone thinks him to be.

STILLWATER TIDES: What kind of life can you live when you know you should be dead? What happens when all your dreams fall apart and it's a struggle just to get through each day?

Grace Bryar is only alive because she called in sick to work and convinced her best friend to go in her place. She was alive when her friend was dead. That kind of guilt doesn't go away and in fact, it holds the power to destroy lives.

STILLWATER DEEP: Hidden truths are unspoken lies. Or what others might call secrets. Everyone knows nothing good ever comes from keeping secrets. And yet, that's exactly what Charlotte Stone is doing. Or trying to.

It doesn't help that the secret she's trying to keep is slowly destroying everyone and everything around her. Her marriage, her town, her friendships...even herself.

Months ago, her tiny town of Stillwater Bay was rocked with a tragedy. One of their own had gone into a local elementary school with a gun and too many lives were lost. The secret Charlotte is keeping is this: she knows why Gabriel Berry went into the school with a gun and it's all her husband's fault. While Charlotte is trying to remain strong, her husband is slowly falling apart. The secret Jordan's keeping is too much to carry and he needs to confess - but Charlotte won't let him. If he tells the truth it would destroy their town and all those they consider friends.

Control-focused Charlotte Stone, mayor of Stillwater Bay, unravels little by little as the secrets become too much for her to carry. Is the truth worth the cost?