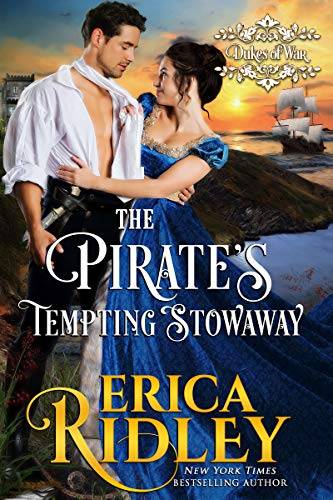 Enjoy a fun, fish-out-of-water, opposites-attract romantic comedy adventure on the high seas, from a New York Times bestselling author!
Captain Blackheart leads a simple life of roving the seas, wenching and treasure-hunting. He steers clear of romantic entanglements that could tie him to land. He shouldn't have any trouble keeping his hands off the gently-bred lady he's commissioned to abduct — except his cargo turns out to be feisty and passionate! She'd be a prize worth treasuring, if having her aboard didn't jeopardize everything...
Clara Halton thought the worst loss she could suffer was to be stripped of her family. Then she meets Blackheart. Their attraction is ruinous...and irresistible. When he delivers her to his client like so much plunder, his mission is over — but hers has just begun. She'll force him to acknowledge their connection, even if she must storm his ship to do it!
Regency-set Historical Romance
The
Dukes of War
historical romance books in series order:
The Viscount's Tempting Minx
The Earl's Defiant Wallflower
The Captain's Bluestocking Mistress
The Major's Faux Fiancee
The Brigadier's Runaway Bride
The Pirate's Tempting Stowaway
The Duke's Accidental Wife
A Dukes of War Holiday Reunion