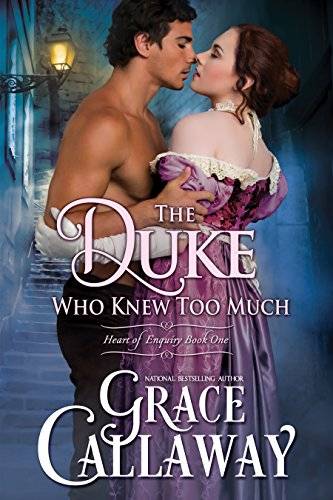 #1 National Bestselling Regency Romance!

He's a rake accused of murder. She's the spinster accusing him. Enemies make the hottest lovers. 

"Readers looking for a good historical mystery/romance or a historical with a little more kink will enjoy The Duke Who Knew Too Much." -Smart Bitches, Trashy Books 

"Amazing, spicy, entertaining, tense story, I loved every second." -Rady Reads 

A Stranger to Love 
Alaric McLeod, Duke of Strathaven, is known as the Devil Duke for his wicked ways. Tormented by his past, Alaric knows better than to trust a woman yet finds himself ensnared by a spirited, virtuous virgin who accuses him of a crime he didn't commit. Is she his foe...or his salvation?

A Novice to Desire 
Emma Kent is an independent country miss cast adrift in the ton. When a depraved encounter with an arrogant rake lands her in intrigue, Emma's honor compels her to do the right thing. But desire challenges her quest for justice, and she must decide: can she trust her heart to discover the truth?

Bound by Passion and Peril 
Alaric and Emma engage in a battle of wits and will. As their attraction flares, the true enemy stalks their every move. With danger looming, will they solve the mystery and find true love...before it's too late?

Length: Full-length novel (over 90,000 words)
Sensuality level: A hot historical romance with steamy love scenes.

"This book is incredible! Easily in my top five historical romances EVER. I am head over heels for Alaric!" -Lee, Goodreads 

The Duke Who Knew Too Much is the 1st novel in the Heart of Enquiry series, which features hot, sexy romance, fun and feel-good happily ever afters, and intriguing mystery and adventure. While this book can be read as a stand-alone novel, many readers enjoy reading it as part of a series.

Heart of Enquiry (Kent family saga) series:Prequel Novella: The Widow Vanishes (Will & Annabel)Book 1: The Duke Who Knew Too Much (Alaric & Emma)Book 2: M is for Marquess (Gabriel & Thea)Book 3: The Lady Who Came in from the Cold (Marcus & Penny)Book 4: The Viscount Always Knocks Twice (Richard & Violet)Book 5: Never Say Never to an Earl (Sinjin & Polly)Book 6: The Gentleman Who Loved Me (Andrew & Primrose)

Game of Dukes series:Book 1: The Duke Identity (Harry & Tessa)Book 2: Enter the Duke (Ransom & Maggie)Book 3: Regarding the Duke (Garrity & Gabby)Book 4: The Duke Redemption (Wickham & Beatrice, December 2019)

Mayhem in Mayfair series: Book 1: Her Husband's Harlot (Helena & Nicholas)Book 2: Her Wanton Wager (Percy & Gavin)Book 3: Her Protector's Pleasure (Marianne & Ambrose)Book 4: Her Prodigal Passion (Charity & Paul)

Chronicles of Abigail Jones (hot Victorian paranormal romance):Book 1: Abigail Jones

About the Author 
USA Today & International Bestselling Author Grace Callaway writes hot and heart-melting historical romances filled with adventure. Her debut book, Her Husband's Harlot, was a Romance Writers of America Golden Heart® Finalist and a #1 Regency Bestseller, and her subsequent novels have topped national and international bestselling lists. She's the winner of the Passionate Plume Award for Historical Novel, and her books have been honored as finalists for numerous awards, including the National Reader's Choice Awards, the Daphne du Maurier Award for Excellence in Mystery and Suspense, and the National Excellence in Romance Fiction Award.

A clinical psychologist, she lives with her husband, son, and rescue dog in Northern California. When she's not dreaming up stories, she loves dancing, discovering hole-in-the-wall restaurants, and cheering on her favorite basketball team.