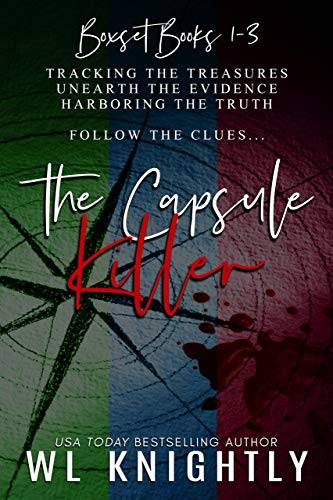 3 Mystery stories for your reading pleasure…

Tracking the Treasures

Let the web unravel itself and try not to die in the process.

After losing her mother in a freak accident, Suede Harris is trying to pick up the pieces and move on with her life. With a history of trouble, including bad relationships, alcohol, and ditching college, finishing up her criminology degree seemed like the best way to start.

While catching up back home with summer courses, she joins a study group to keep on track, but when her friends convince her to go geocaching, a simple trip will shake up her entire world. When the only treasure they find is a human bone, it will send her on a mission fueled by personal trauma to figure out what happened to the victim.

Will she find the killer, or uncover secrets that have been long buried?

Unearth the Evidence

With the investigation into Kara Lockland's death causing a stir, Suede Harris has a hunch that everything happening in Summer Grove is connected.

After requesting to shadow Special Agent Nate Hawthorn on the case, she hopes they figure out whose killing young women and why Kara ended up in the lake before her friend Graham loses his freedom for a crime she's not sure he committed.

With more bodies being found, each uncovering more clues, will they nab the suspect before he kills again?

Or will they only lead to more questions?

Harboring the Truth

Now that Special Agent Nate Hawthorn is busy determining if their latest case was murder or suicide, and is left dealing with the backlash of Connor Levine's release, Suede Harris finds information that could lead to a potential motive for their killer.

But will she share it with Nate, or try to find answers on her own?

While sorting out the timeline, Suede learns secrets that could not only land her in hot water with the Sheriff, but change everything she trusts and believes.

When betrayal cuts too close to home, Suede is forced to see just who has her back and who would leave her hanging.