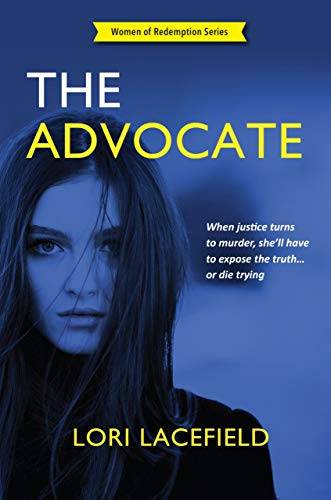 A twenty-year-old crime. A shocking conspiracy. Can she expose the truth before she becomes the next victim?"A fast-paced page turner... - Bonnie L"
"A taut, twisting tale... - Bob M"

Palmer Reed is still haunted by her tragic past. Frustrated her childhood kidnappers escaped justice, she accepts a position at an advocacy foundation, hoping to support other victims of crime. But she's stunned to discover that behind the scenes of the glamorous fundraising galas, a sinister conspiracy lurks.Strong-armed by the determined founder into squeezing money from lawbreaking "donors," she's troubled by the shady practices used to raise big dollars. With her conscience eating at her, Palmer sets out to uncover the true depths of the shadowy scheme, and unearths a shocking connection between the organization and her own kidnapping.Can Palmer expose the deadly truth before she falls prey—again?The Advocate is the first standalone book in the riveting Women of Redemption suspense thriller series. If you like strong female heroes, titanic twists, and danger around every corner, you'll love this edge-of-your-seat read!ReadThe Advocate to dig into a disturbing scandal today!

Interview with the Author

Q - So, what makes the Women of Redemption books special?

A – I think it really boils down to the characters. When I write, I let the characters tell me who they are, and what I discover is that like any of us, they wrestle with the challenges life throws at them in a varied manner. The emotions they experience are real – anger, betrayal, hurt, grief, guilt – and the choices they make as a result – whether revenge or turning a blind eye - may not be good or right, but they're human. The question facing each in the end, is what will they do to make the wrong right?

Q – You like to throw your strong female protagonists into some impossible situations. Why is that?

A – I've always liked books about ordinary people facing extraordinary circumstances. I believe people often find the best in themselves when faced with the worst. I want readers to put themselves in these women's shoes, and think… How far would I go to get justice if I was kidnapped and the perpetrators responsible were never punished? What would I do if I found out the woman I most respected was taking justice into her own hands? What if I discovered the man I found guilty of murder was innocent and I was the one responsible for securing his death sentence?

Q – These books seem to cross genre boundaries, a bit mystery, suspense, and thriller.

A – I think all authors like to create books that mirror the kind of books they like to read. My top picks are usually serial killer thrillers, psychological thrillers, private detectives, and any number of thriller and mystery best sellers. I love a fast-paced style that keeps me on the edge of my seat. As a result, I think my books tend to take a part from each genre – a bit "whodunit", some "don't open that door", add a few high stakes and blend them together.

Q - So, why should a reader check out your books?

A - Because you'll love the page-turning action! And thanks for reading!