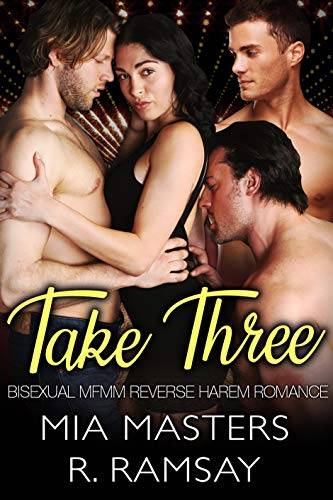 Everyone's saying to break a leg but her three male co-stars want to sweep her off her feet.

Blythe is working as a stunt double on an action movie when the female lead gets injured. It's Blythe's lucky break, because not only is she chosen to star in the main role, but she also gets to work on set with three hot celebrity guys: Christian, Zack and Monk.

Hot scenes on camera soon lead to even hotter chemistry and tension off set. All three of them are clearly into her and Blythe can't decide which one she should choose.

Zack is the reserved bad boy, Christian is sweet and sensitive, and Monk is very Zen-like. He's the biggest challenge because he takes a vow of chastity while filming. But he's clearly tempted to break that vow for Blythe, and she can't help but think he's flirting with the other two guys as well.

Rumors abound that Monk's bisexual and Blythe starts to wonder if she can convince the guys to share her--and each other. That way she can experience being with all of them and not have to choose between them. But Zack and Christian are reluctant to jump into such an untraditional set-up, and it would definitely bring problems with the press and with Blythe's conservative, small town family back in Montana.

Will their on-screen love square turn into an epic real-life romance?
Or will drama get in the way of what could be the biggest four-way hit of all time?

Take Three is a full length standalone coming out, MMMF bisexual reverse harem novel of nearly 100,000 words. No cheating. No cliffhangers. Originally published in 2019 as Three Hollywood Hunks by R. Ryan, this is a fully revised and expanded edition in which R. Ryan has partnered with Mia Masters, master of MMF ménage romance and reverse harem, to bring you steamy bisexual goodness!