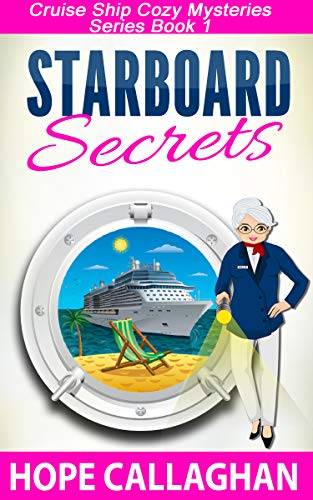 Discover why so many fans love the "Original" Cruise Ship Cozy Mystery series with 19 books and counting!

"Welcome aboard! Leave your worries behind as you escape on your fun-filled cruise vacation with Millie and crew as they solve mysteries onboard the "Siren of the Seas!"

"If you like clean cozy mysteries that keep you guessing until the end, you'll love Hope Callaghan's Mysteries!"

Starboard Secrets is Book 1 in the Original Cruise Ship Cozy Mysteries

BONUS - RECIPE INCLUDED!

--------------------------------------

Millie Sanders' happily ever after is suddenly destroyed when her husband of 35 years comes home one day and informs her that he is leaving her for another woman. To make matters worse, the other woman happens to be her "friend" and hairdresser, Delilah Osborne!

After months of mourning and moping around the house, she stumbles upon a help wanted ad in the newspaper for the perfect job as an assistant cruise ship director. Before Millie can talk herself out of it, she fills out the application and mails it in. Much to her surprise, not only does the company contact her, they hire her!

Determined to start a new life and new career, Millie boards the ship, ready for a new adventure. She isn't on board the massive floating city - her new home - more than ten minutes when a dead body is discovered near the atrium bar.

Her curiosity gets the best of her and before she knows it, Millie finds herself right in the thick of the investigation. With a little help from a new friend and shipmate, the amateur sleuth discovers that the deceased had more enemies than friends making this murder an even tougher case to crack.

Will Millie delve too deeply and risk losing her job – and possibly her life?

Hope Callaghan mystery books never contain foul language, sex, or gore...Just clean, cozy mysteries that keep you guessing until the end!"

--------------------------------------

What Readers Are Saying

★★★★★ Absolutely fantastic
What a well written, characters created story in Starboard Secrets, book 1 in this series. A few laughs along the way with a fun mystery to unravel. My late husband and I cruised often and we loved everything about it. Hope Callaghan is a seasoned cruiser and it shows through her storytelling. Headed on to the gangplank.......and the next book in this series! -Kindle Customer

★★★★★ No mystery why these books are enjoyable...
Did I mention, I really like the author's style of writing. Read ALL her works. Gonna take you about forever, because there are so many to enjoy! -Sarah E Johnson

★★★★★ SHIP AHOY!
Fun to read. I enjoyed the location, a cruise ship. There seems to be a whole new world using a cruise ship as your setting. Lots of possibilities for characters and plots. The character in this story is developing. This author has a great sense of character and plot development. I love a good series and even better a good author and this book has both. I highly recommend this book. And don't let the fact that this is a Christian story because the Christian is not overly done and it doesn't take away from the great writing style. -Patty Debaun

★★★★★ Fun cruise.
Kept you guessing for the whole cruise. The characters were varied and interesting. Looking forward to more Cruise Ship Cozy Mysteries. -fijilover

★★★★★ Easy to read, clean content murder/mystery books.
This, along with the entire cruise ship series by Hope Callaghan is an adorable, easy to read mystery set. I enjoy the references to Millie's spiritual life without being overly "in your face" about it. The characters are funny, their pasts and development are well established and I enjoy learning more about them in each book. -Mrscll

Scroll up and click the Buy now button (Today It's FREE! --$0.00) to begin your fun-filled reading adventure today!