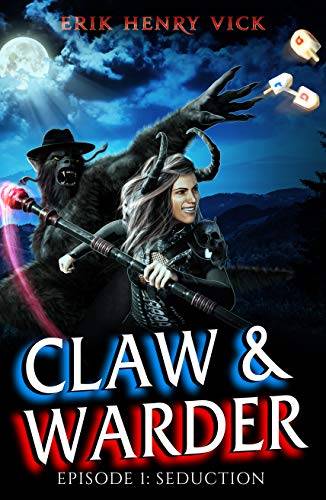 Leery Oriscoe is just a conflicted New York cop who got hit by the Hassidic bus—only the bus was driven by a werewolf. There's bound to be a little crazy under his black hat.His life just got ten times more complicated. His new half-vampire and half-succubus partner is smart, sexy as Hell, and keeping a big secret from everyone.Oh, and their lieutenant? She's the ghost of a Van Helsing.Their case? Tracking down the entity responsible for leaving the drained body of a young man in Riverside Park.With a succubus for a partner, another as a witness, and yet another as the prime suspect, will Leery end up the victim of the next Seduction?Critical Acclaim for Seduction:
★★★★★ "[T]he 'other world' is swarming with their own problems to keep their side under control in New York. I'm no stranger to Erik Henry Vick's universe as I'm a fan of The Bloodletter Saga. Vick's intriguing, ghoulish, fast-paced plot and solid characterization are as entertaining as I expected. There are ample thrills, chills, and fun to satisfy readers' appetites. The dialogue and prose generate the entertaining moments and the degree of tension best suited to launch the next twist in the storyline. Seduction is a great start for the Claw & Warder series; yet more proof of Erik Henry Vick's storytelling expertise in the supernatural world."--Lit Amri, Readers' Favorite Reviews
★★★★★ "I absolutely loved this story. The idea that there are two simultaneous types of society working side-by-side was a fascinating premise. This is the beginning of a series featuring these characters and I look forward to seeing how they develop as characters and especially how the relationship of Leery and his new partner grows. The characters are fully overdrawn, as is the nature in this genre, and author Erik Henry Vick has done a fantastic job of giving them real and recognizable emotions and foibles that endear them to the reader, despite their magical beings. The writing style is flowing and easy to read. If urban fantasy is your thing, this is a book you must read but even if it's not, this is a book you should read. I did and I'm glad of it – an excellent read."--Grant Leishman, Readers' Favorite Reviews
★★★★★ "Erik Henry Vick twists the typical police procedural by flipping everything with a magical examiner and a Supernatural Inquisitors Squad. The world has several elements that make a crime story work with a snarky detective and an intriguing case which Vick uses to blend these supernatural aspects into a suspenseful and at times humorous mystery. The case revolves around a succubus which allows you to see inside the part of the supernatural world. Seduction: CLAW & WARDER Episode 1 is a fun kick-off to a crazy, humorous, and murder-filled supernatural procedural series."--Liz Konkel, Readers' Favorite ReviewsWhat readers are saying about the series:
★★★★★ "Great riff on Law and Order!"
★★★★★ "Love Law & Order? Read Claw and Warder!"
★★★★★ "Fantastic beginning to a new series!"
★★★★★ "DUN-DUN! has never been more fun!"
★★★★★ "Interesting twist on a favorite tv show."
★★★★★ "What do you do with Hasidic Werewolf Homicide Detective?"
★★★★★ "A magical Law & Order !"
★★★★★ "Fans of Law and Order are absolutely going to love this!"
★★★★★ "Action and Humor!"
★★★★★ "Excellent read!"
★★★★★ "Cheeky and fun!"
★★★★★ "Alert! Alert! Your new favorite author has released a new book!"
★★★★★ "Great suspense and action with wonderful world building... Such a thrilling read that I couldn't put it down."
★★★★★ "A wonderful tribute to a classic TV series and a few nods to a Chicago Wizard!"This light-hearted new series has delighted and amused thousands of readers since day one. Escape the trials of the times and immerse yourself in the supernatural otherworld of CLAW & WARDER.