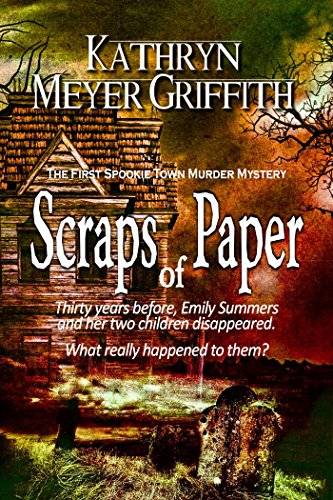 "Scraps of Paper is a well-constructed mystery with just the right mix of good guys and bad guys, with a sprinkling of oddballs and misfits thrown in. Kathryn Meyer Griffin does a nice job of allowing the friendship of the book's two main characters to develop as the story progresses. I would recommend this book to anyone who likes a good who-done-it, set in a picturesque environment with believable characters. This is the first book in a series the author calls 'The Spookie Town Mysteries'." 5 Stars Reviewed by Michael McManus for Readers' Favorite May 17, 2013 (Second in the series: ALL THINGS SLIP AWAY)
Snippet of NOVELSPOT Review for Scraps of Paper:
"The premise behind this story intrigued me. Old houses have their own history-bad and good. What would you do if, while you were renovating an old house, you found an intriguing mystery, even if it was years old? If you had a chance of solving that mystery, would you? Or would you leave it buried in the past? Would you want someone digging in your past, your tragedies? If someone you loved just disappeared, what would you do?
Kathryn Meyer Griffith's Scraps of Paper is an engaging story of what happens when you go digging into the past and the possible consequences. It also has an underlying story about dealing with what life hands you and finding the strength to move on. Both Frank and Abby are strong characters they have had to deal with the loss of a loved one and to learn to deal with that loss. You find yourself drawn to them and to all the quirky people who live in the little town of Spookie. In the end you want to know what happened in the old house so many years earlier. I'll be looking forward to more books about this quaint little town."
Reviewed By Theresa at NOVELSPOT © March 2006 (9 out of 10 rating)
*****
Abigail Sutton's beloved husband walks out one night, doesn't return, and two years later is found dead, a victim of an earlier crime. It's made her sympathetic to the missing and their families.
Starting her new life, Abigail moves to a small town and buys a fixer-upper house left empty when old Edna Summers died. Once it was also home to Edna's younger sister, Emily, and her two children, Jenny and Christopher, who, people believe, drove away one night, thirty years ago, and just never came back.
But in renovating the house Abigail finds scraps of paper hidden behind baseboards and tucked beneath the porch that hint the three could have been victims of foul play.
Then she finds their graves hidden in the woods behind the house and with the help of the eccentric townspeople and ex-homicide detective, Frank Lester, she discovers the three were murdered. Then she and Frank try to uncover who killed them and why...but in the process awaken the ire of the murderer. ***
***This book is the first of a series. The second and third books, All Things Slip Away and Ghosts Beneath Us, where Abigail and Frank's sleuthing adventures continue, are also for sale on Amazon.