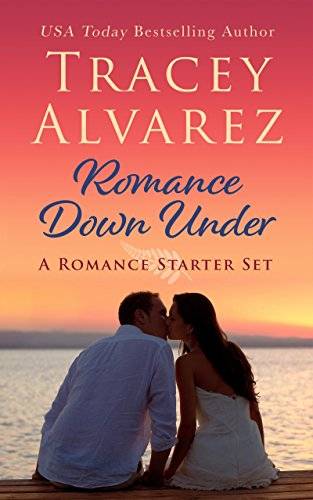 Read the first two full-length, standalone romance novels from USA Today bestselling author Tracey Alvarez's Stewart Island and Bounty Bay series.
In Too Deep (Stewart Island Book #1)
What if the man you loved played a part in your father's death?
Piper is haunted by the ghosts of her past. As an elite police diver, she's forced back to the one place she'd sworn never to return. She left her hometown on an isolated New Zealand island, and her first and only love stayed behind. Can they face their past and be together?

Hide Your Heart (Bounty Bay Book #1)
Hiding in plain sight just got complicated...
Lauren Taylor and her young son fled back to her hometown to escape fame's cruel spotlight, and all she wants to do is start over. No press, no pictures, no problem. She thought she'd be safe in the middle-of-nowhere, but her sexy new neighbor is about to ruin everything…

Fall in love with these authentic heroes and heroines trying to find their special someone—then read the other standalone books to discover the friends and family who stumble into a once-in-a-lifetime love themselves.

300+ 5-star Amazon reviews on these titles individually.

Praise for Tracey Alvarez's books:

"It's official…I'm hooked on this series! I want to jump on a plane and fly to this island, because apparently they grow them big and HOT in New Zealand…men that is!!!" ~ Swept Away By Romance

"Perfection comes in many shapes and forms, and Ms Alvarez delivers in her contemporary voice and quirky character traits that make a distinctive difference between average and stellar storytelling." ~ InD'Tale Magazine

"Reading a book by Tracey Alvarez is like taking a mini vacation to my imagined little happy place in New Zealand."~ Spellbound Book Reviews

"Tracey now is included among some of my fav authors from the Southern Hemisphere. Rosalind James and Natalie Gayle fans will love Tracey's books."~ Retailer review

"Tracey Alvarez has written a finely crafted, well written romance. Sexy and delightful and full of family values."~ The Book Date

"Her writing style will keep you hanging on to every word and feeling the characters' heartbreak right along with them."~ Rach Lawrence Books

Other Contemporary Romances by Tracey Alvarez

Stewart Island Series:

Book 1: In Too Deep. Featuring Piper and West.
Book 2: Melting Into You. Featuring Kezia and Ben.
Book 3: Ready To Burn. Featuring Shaye and Del.
Book 4: Christmas With You. Featuring Carly and Kip.
Book 5: My Forever Valentine. Due South Short Stories.
Book 6: Playing For Fun. Featuring Holly and Ford.
Book 7: Drawing Me In. Featuring Bree and Harley.
Book 7.5: Kissing The Bride. A Due South Short Story.
Book 8: Saying I Do. Featuring MacKenna and Joe.
Book 9: Home For Christmas. Stewart Island novella.

Bounty Bay series:
Book 1: Hide Your Heart. Featuring Lauren and Nate.
Book 2: Know Your Heart. Featuring Savannah and Glen.
Book 3: Teach Your Heart. Featuring Gracie and Owen.
Book 4: Mend Your Heart. Featuring Natalie and Isaac.
Book 5: Break My Heart. Featuring Vanessa and Sam. (Coming soon).