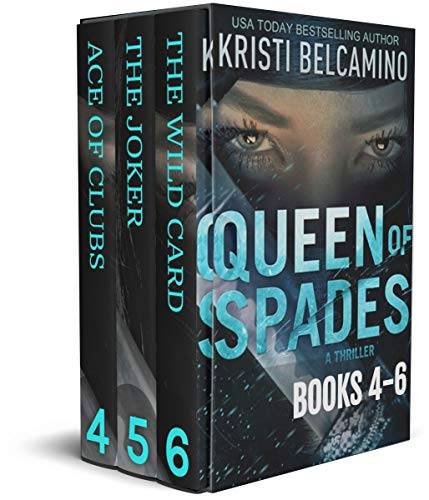 Three thrillers in the bestselling Eva Santella series: The Ace of Clubs, The Joker and The Wild Card


"This is jam packed full of adventure, twists, turns and intrigue."


Have you met Eva Santella?


One of the first female Mafia bosses at 17, Eva fled her violent world in Italy and made a life for herself in L.A. under a new name.


But then …They found her.

And took away everything she loved.


Now she has only one thing left to live for…


Making them pay.

"Kristi Belcamino is always great, her characters are memorable feminist icons, the toughest women on the planet. This time she's invented a new genre, the Mafia Kung Fu movie Italian style, with a feminist twist." - Amazon Review

Like the Atomic Blonde, Red Sparrow, Jason Bourne? You'll love Eva Santella.

BUY THE QUEEN OF SPADES BOXSET TODAY TO START THE THRILL RIDE!

What Amazon readers are saying:

★★★★★ "The Queen of Spades is magnificent!"

★★★★★ "Queen of Spades is an action-driven book with a gripping storyline; I read it in one day as I simply could not put it down."

★★★★★ "Eva, the Queen of Spades, could be a super-hero in any world of right versus evil."

★★★★★ "I am such a fan of Kristi Belcamino, and her newest release Queen of Spades validates why she is one of my favorite authors."

★★★★★ "I loved this book from start to finish."

★★★★★ "Another edge of your seat read by Kristi Belcamino."


★★★★★ "Another can't put it down until it's done masterpiece. Compelling and fast paced. Make sure you have time to read it cover to cover before you pick it up or you will be late for something else."

Buy the box set and start a series you won't want to put down!