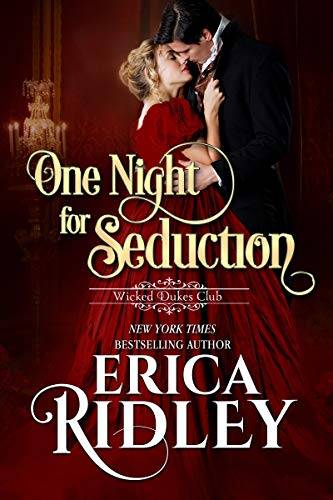 A forbidden love, opposites-attract, feel-good romantic romp from a New York Times and USA Today bestselling author:

When the Wicked Duke dares the Duke of Colehaven to find a suitor for an unmanageable ward, Cole immediately accepts. He's on a winning streak, and besides, how unmarriageable can a pretty young lady be? He appoints himself bodyguard and duenna, only to discover his own desires may be the greatest danger of all.

Diana Middleton lives a double life, bringing dishonest merchants to justice. Shaking off a meddling duke should be child's play. Yet the more they lock horns, the more she wants to lock lips. Her scandalous secrets would derail his political career. But surely there's no harm in one little seduction…

Meet the unforgettable men of London's most notorious tavern, The Wicked Duke. Seductively handsome, with charm and wit to spare, one night with these rakes and rogues will never be enough…

Wicked Dukes Club #1: One Night for Seduction
Wicked Dukes Club #2: One Night of Surrender
Wicked Dukes Club #3: One Night of Passion
Wicked Dukes Club #4: One Night of Scandal
Wicked Dukes Club #5: One Night to Remember
Wicked Dukes Club #6: One Night of Temptation

Enjoy the brand new series brought to you by USA Today bestselling author Darcy Burke and New York Times bestselling author Erica Ridley!