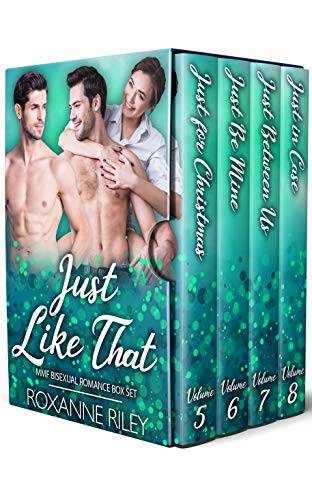 Everything can change, just like that.
Can these trios deal with their lives turning topsy-turvy and come out together on the other side?

Sometimes love sneaks up on you when you least expect it. And Emilie, Gwen, Veronica, and Felicity were all definitely not expecting to stumble into the man of their dreams...twice.

Veronica isn't looking forward to having to share a bathroom with Jackson, the mysterious son of her stepfather who is moving in with her mom and stepdad and her for the foreseeable future. But they're unsympathetic and even drag her to the airport to pick him up. While there, she meets a hot guy who sets up a date with her, so at least it wasn't a wasted trip. Once Jackson arrives, however, Veronica is horrified to find herself devastatingly attracted to his drop-dead gorgeous looks. And she's even more horrified to find out later that the guy she'd set up a date with was his best friend Trevor! Jackson is clearly jealous as hell. But what none of them, including Jackson, can figure out, is who that jealousy is over.

When tragedy strikes and brings all three of them together, they know there's no turning back. They have to take care of each other, in every single way possible, without letting the world know about their forbidden, unconventional relationship. Things have heated up between these three beneath the sheets but how will they fare out and about in the real world as a throuple?

Will Veronica lose everything just like that, or will this strange new romance be the start of a brand new life? Read her story and three others in this collection of books that each take place in the Just Us universe and that are linked by characters and setting.

Two guys.
One girl.
Four romance stories both unique and unforgettable.

Just Like That is a bisexual menage romance collection with high heat MM and MFM scenes (swords do cross in this one). This box set includes four standalone books from the Just Us series: Just for Christmas, Just Be Mine, Just Between Us, and Just in Case. The books have no cliffhangers and no cheating, but they do have a very happily ever after and lots of steam.