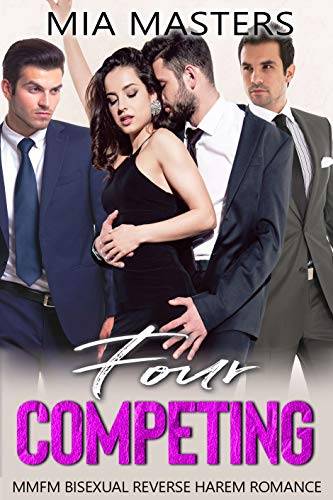 My three hot coworkers and I are in competition.
But our rivalry is hiding a fire that could burn us all.

Cameron, Keegan and Mathias are the hottest lawyers in town.
But I find them to be cocky and obnoxious.
As their co-worker, and the only woman at the firm,
all I want to do is rub their faces in the dirt.
They're my competition for the new senior partnership.
And I always play to win.
Little do I know that something is happening behind my back.
My three rivals are getting together.
But it has nothing to do with trying to earn the promotion.
These men have discovered that love is just as fun as war.
And they want me to join in with them.
It turns out the alpha men at the firm are bisexual.
They say my feminine curves will add to their masculine mix.
When a work dinner turns into more, I question everything.
Because falling in love with three men is impossible, right?
Plus, they're supposed to be my enemies.
But a lot of things aren't turning out as expected lately.
On the surface, we're exploring new horizons together.
Yet this could all be part of an elaborate scheme.
Or it could end in disaster if our secret tryst is found out.
Somehow I can't stay away, though, no matter the risk.

Has our short-term battle for domination over one another
turned into sharing equal pleasure for good?

Four Competing is a bisexual menage with m/m, m/f and m/m/f action and romance. It has no cliffhanger and no cheating. And it has a happily ever after served with plenty of heat!