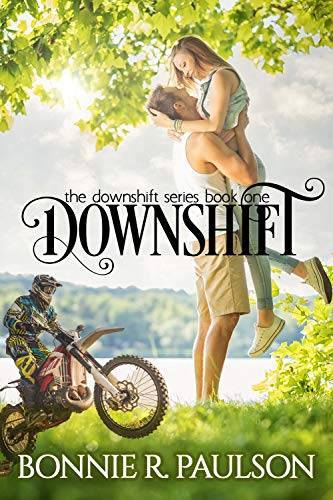 A lonely dirt bike champion and one nurse desperate to deny the daredevil in her heart. When one crashes into the other's world, can they help each other escape their lonely lives?
Or are they destined to run from their hearts for all seasons.
Praise for Downshift...
"This was a sweet story that involved real emotions.  It was a descriptive and easy read like all of this author's books."

"I would highly recommend this book for anyone. Watching JT and Kelsey try to sort through their feelings was entertaining and lovable at the same time."

"I certainly recommend reading this book and can't wait for the next installment. Be warned, as with all other of Bonnie's books - be prepared not to put this one down until you are finished - she is very talented at hooking you in and not letting you go until before you know it, you have read the whole book and are dying for more!" 

J.T. is one of the top dirt bike champions in the US. With sponsors and races filling his calendar, he should be happy in his success. But until his ten year contract is up, he's tied to the controlling and thieving management of his father. 
Kelsey's responsibilities are crashing around her. The only way to get ahead is to get a job that pays more and with impossibly specific benefits. If she can't succeed, her dreams will fade like her grandmother's memories.
An accident thrusts J.T. into Kelsey's care. She accepts his proposal and challenges him for a price. But when their emotions and attractions get in the way of their mutual goals, they need to choose which is more important - their hearts or their dreams?
***Books by Bonnie R. Paulson***
Clearwater County Collection
The MONTANA TRAILS SERIES
Broken Trails (book 1) 
Forbidden Trails (book 2)
Unbridled Trails (book 3)
Hidden Trails (book 4)
Forgotten Trails (book 5)
Endless Trails (book 6)
Forsaken Trails (book 7)
Lonesome Trails (book 8)
Lost Trails (book 9)
Untamed Trails (book 10)
Boxset – Books 1, 2, 3
Boxset – 4, 5, 6
Boxset – 7,8,9
Full Boxset – 1-10
LONELY LACE SERIES
Spurs and Lace (book 1)
Secrets and Lace (book 2)
Sorrows and Lace (book 3)
Boxset (all 3 books)
REDEMPTION SERIES
Romancing Redemption (book 1)
Riding for Redemption (book 2)
Resisting Redemption (book 3)
Regretting Redemption (book 4)
Rewarding Redemption (book 5)
Boxset (all 5 books)
Contemporary Romance
CLICKANDWED.COM SERIES
With This Click, I Thee Wed (book 1)
IDo.com (book 2)
DIY Vows (book 3)
eHoneymoon (book 4)
Keyword: I Do (book 5)
Let US-B Wed (book 6)
The Right Click (book 7)
MADE FOR LOVE SERIES
Made for Me (book 1)
Made for You (book 2)
Made for Love (book 3)
DOWNSHIFT SERIES
Downshift (book 1)
Full Throttle (book 2)
Block Pass (book 3)
STANDALONES
Odd Man Out