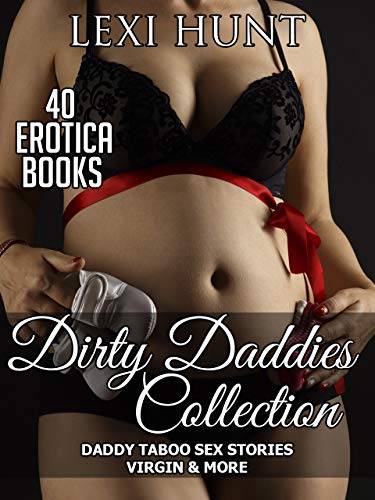 Advisory: This 40 Book MEGA Bundle of Erotica Taboo Sex Stories contain Explicit Sexuality, and Adult Content that may be deemed by some to be offensive, indecent, or otherwise objectionable, so please read at your own discretion.

But, if Dirty is the way you want it, Click the Download Button Now and start reading within seconds.

Enjoy this MEGA Collection of 40 Explicit Taboo Short Stories. Quick and dirty, filled with sinfully delicious erotica Tales by Lexi Hunt in this Sweltering Hot MEGA Bundle!

Read about all the little princesses, brats and first time virgins that get their love or punishment from the older men of the house in their lives! From start to finish, these pleasurable sensual tales of love and lust will soak your panties starting right now!

These ladies are pure and innocent. V-Cards never touched or broken. The men, TOO BIG to FIT and are totally FORBIDDEN and twice their age. Their dark desires need to be satisfied. BIG ROUGH FAST and HARD is their style.

O DIRTY BOOKS! Pleasing to the very last drop, bringing you to an intense CLIMAX!

These erotic stories include:

Daddy Bathes Me
Milked And Shared
Fertile Milky Hucow
Milked And Plugged
Daddy's Dirty Milk Farm
Daddy Help!
Probed By Daddy
Daddy's Lil Virgin
Liberating His Hotwife
Stealing His Hotwife
Owning His Hotwife
Training His Hotwife
Daddy Show Me
Daddy Busts Me
Daddy Snuggles Me
Daddy Get Your Gift
Pleasing Daddy
For Daddy
No Daddy!
Daddy Plugs Me
Daddy's Punishment
Daddy's Reluctant Virgin
Daddy's In The Woods
Fertile Nympho For Daddy
Daddy's Treat
Dirty Daddy
Relax For Daddy
Punishing The Runaway
Teaching Her Discipline
Daddy Caught Me Being Naughty
My Wild Night With Daddy
Sorry, Daddy
Up For Daddy
The Sleepover
Daddy's Dirty Little Thief
Daddy Doesn't Know
Shared By My Daddy
Taken By Daddy

And so Much More!

Grab Your Copy Now!

* * * * * *

For Mature Readers 18+ Only!