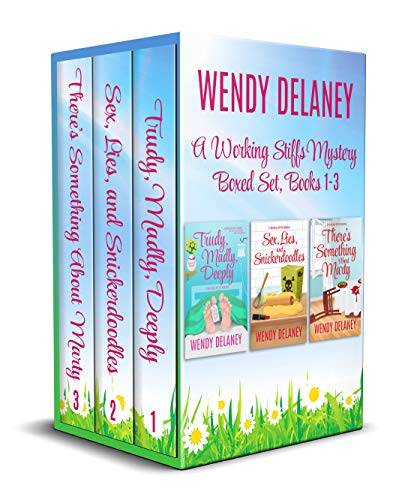 The first three books in the award-winning Working Stiffs cozy mystery series! TRUDY, MADLY, DEEPLY - Book #1
Meet Charmaine Digby, human lie detector.
Char's psyched to put her ability to the test as the County Coroner's new investigative assistant. But she sure never expected she'd need it to solve a murder! Of course, that was before she got her first assignment. Interview the hunky doctor reporting the suspicious death of Trudy, a family friend and one of several elderly patients at the hospital whose heart mysteriously stopped. Coincidence? More likely, there's a murderer on the loose! In hot pursuit of the truth, Char's on the case, much to the irritation of her cop buddy, who doesn't want her to stick her nose in his investigation. But she had better keep her eyes open or the next body on the way to the morgue could be hers!SEX, LIES, and SNICKERDOODLES - Book #2
Everybody's got a secret. A secret crush. A secret liaison. A secret recipe. And for a deadly few... a secret murder. Port Merritt's favorite bad boy, Russell Falco, was a seasoned veteran of secret liaisons. But after his body washes up on the shore of Merritt Bay, Deputy Coroner and human lie detector, Charmaine Digby, suspects one of those liaisons got Russell killed.
Secrets. Lies. Cookie-baking rivals. And a dead guy! Char's on the case and is determined to find the killer...if the killer doesn't find her first! THERE'S SOMETHING ABOUT MARTY - Book 3
It was Marty McCutcheon's bad luck to die on his birthday. Then again, since Marty is the third husband his young widow will be burying, maybe luck had nothing to do with it. As Deputy Coroner Charmaine Digby discovers when she questions Marty's widow about his sudden death, she had ample opportunity to kill him. Victoria McCutcheon even admits as much, right before she asks Char to solve her husband's murder. What? A suspected black widow who wants her husband's murderer brought to justice? Victoria McCutcheon is either the most skillful liar Char has ever encountered or someone else has spun a web of lies to cover their murderous tracks. But who, and why? With no hard evidence to go on, it's up to Char and her ability as a human lie detector to break this case wide open. Assuming that someone doesn't crack her skull open first!
What reviewers are saying..."Through her nimble use of wit and humor Ms. Delaney delivers rich, eccentric characters and clever plot twists that promise to keep the reader turning the page."
~ Chanticleer Book Reviews"I love this funny series."
~ Cozy Up With Kathy"Delaney's style of writing is fun, laugh out loud brilliance."
~ Kimmy's Korner"The Working Stiffs series is just fun, fun, fun."
~ Kate, Romance Junkies Book Reviews
If you enjoy small town life, quirky characters of all ages, and a splash of romance with your whodunit, you'll love the Working Stiffs Mystery series. Grab this boxed set today and start reading!