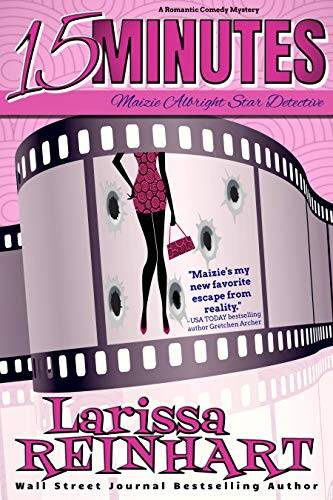 "A RAUCOUS AND ADDICTING READ"
For fans of romantic comedy mysteries like Meg Cabot's SIZE 12 IS NOT FAT and Stephanie Bond's BODY MOVERS,
The Wall Street Journal
bestselling author Larissa Reinhart brings her readers the first in the Maizie Albright Star Detective series,
Hot Mystery Reviews'
 "
Top 10 Mysteries for Book Clubs
."
"
Child star and hilarious hot mess Maizie Albright trades Hollywood for the backwoods of Georgia and pure delight ensues. Maizie's my new favorite escape from reality
."— Gretchen Archer,
USA Today
bestselling author of the Davis Way Crime Caper series.
Three Teen Choice Awards, One Emmy Nomination, and several Maxim covers later, Maizie Albright was an ex-teen star, stuck in reality show hell, and standing before a California judge.
She has one chance for a new life: return home to Black Pine, Georgia, and get a job that has nothing to do with show business.
So why not become a private detective—the person she played during the happiest days of her life?
Maybe because…
First: She's got 10 days to get and keep the job.
Second: She has to convince the only private investigator in town to hire her.
Third: She lost the client's wife on the first day. (And the woman may be dead…)
Fourth: She just might be falling in love with her new boss. And she just might have lost him his business.
But what has she got to lose, other than imprisonment, her dignity, and possibly, her life?
Start the Wall Street Journal bestselling series and download 15 MINUTES today! "A great mix of Hollywood with Southern charm."
"
Maizie Albright is the kind of fresh, fun, and feisty star detective' I love spending time with
, a kind of Nancy Drew meets Lucy Ricardo. Move over, Janet Evanovich. Reinhart is my new 'star mystery writer!'" — Penny Warner, Author of Death of a Chocolate Cheater and The Code Busters Club
"
Sassy, sexy, and fun, 15 Minutes is hours of enjoyment
—and a wonderful start to a fun new series from the charmingly Southern-fried Reinhart."— Phoebe Fox, author of The Breakup Doctor series
"
Armed with humor, charm, and stubborn determination, Maizie is a breath of fresh air
. I adored every second of 15 Minutes."— Terri L. Austin, bestselling author of the Rose Strickland Mysteries and the Null for Hire series.
"Larissa writes a delightful book. Suspense, romance, and some funny situations. 
Maizie's a teen star grown up to new possibilities
." — Sharon Salituro, Fresh Fiction
"
This new series is a great mix of Hollywood with Southern charm
. This story is totally unpredictable with lots of twists and turns. Can't wait to see what the future holds for Maizie!" — Book Babble
Related subjects include: cozy mysteries, women sleuths, murder mystery series, whodunit mysteries (whodunnit), humorous murder mysteries, amateur sleuth books, Southern humor, humorous women's fiction, chick lit, former child stars, romantic comedies, and small town humor
Books in the Maizie Albright Star Detective series:


15 MINUTES

16 MILLIMETERS

NC-17

A VIEW TO A CHILL

17.5 CARTRIDGES IN A PEAR TREE

18 CALIBER (2020)

Books in the Finley Goodhart Crime Caper series:


A PIG'N A POKE (prequel, subscriber-only short story)

THE CUPID CAPER

Title TBA (2020)

Books in the Cherry Tucker Mystery Series:


A CHRISTMAS QUICK SKETCH

PORTRAIT OF A DEAD GUY

STILL LIFE IN BRUNSWICK STEW

HIJACK IN ABSTRACT

DEATH IN PERSPECTIVE

THE VIGILANTE VIGNETTE (novella)

THE BODY IN THE LANDSCAPE

A COMPOSITION IN MURDER

A VIEW TO A CHILL

A MOTHERLODE OF TROUBLE (2020)