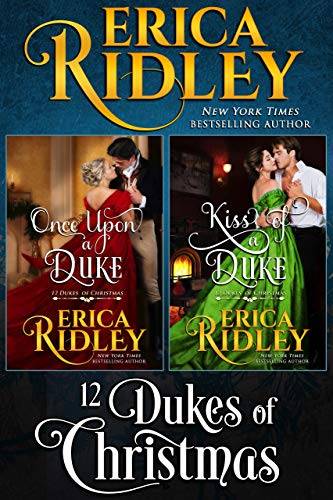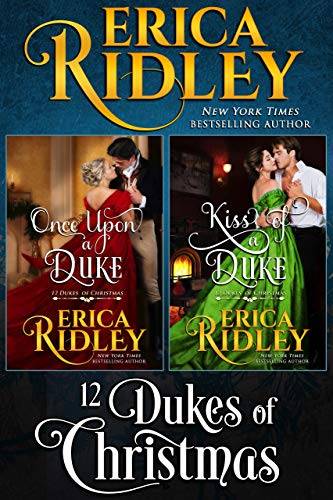 12 Dukes of Christmas (Books 1-2): Holiday Romance Collection (Regency Romance Tasters)
Enjoy the first two Regency Christmas romances in a fun, feel-good series from a New York Times bestselling author!"Erica Ridley's love stories are warm, witty and irresistible!"
— ELOISA JAMES
ONCE UPON A DUKE
Enjoy a fun, second-chances regency romp featuring a spinster in a counting house, a grumpy duke trying not to fall in love, magical nights in a romantic castle, mischievous goats, and a partridge in a pear tree. What could go wrong? Absolutely everything!
KISS OF A DUKE
A delightful romp featuring a rake (the sexy kind), a perfumer (of the female scientist persuasion), two turtle doves, one true love, and a kiss that changes everything. Of course a dashing rogue and a no-nonsense chemist can indulge their passion without pesky feelings getting in the way... Can't they?
The 12 Dukes of Christmas is a series of heartwarming Regency romps nestled in a picturesque snow-covered village. After all, nothing heats up a winter night quite like finding oneself in the arms of a duke!
"Swoon-worthy and heartwarming… When I want to feel good, I read Erica Ridley."
— Darcy Burke, USA Today bestselling author
~~~
The Twelve Dukes of Christmas:
Once Upon a Duke
Kiss of a Duke
Wish Upon a Duke
Never Say Duke
Dukes, Actually
The Duke's Bride
The Duke's Embrace
The Duke's Desire
Dawn with a Duke
One Night with a Duke
Ten Days with a Duke
Forever Your Duke